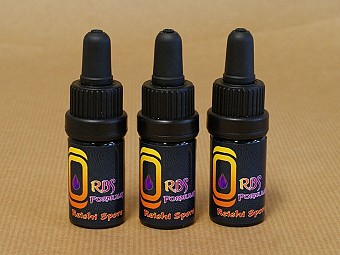 Orbs Reishi Spore Oil
Bottle With Pipette, Oil, 5 Ml (SKU 3734)
In traditional Chinese medicine, Reishi (Ganoderma Lucidum) is known as the Queen of Mushrooms or even the Mushroom of Immortality. Reishi has been used for thousands of years for her immunity enhancing properties. The highest concentrations of polysaccharides and triterpenoids, the active compounds known to stimulate the immunesystem, are found in the spores of the mushroom and especially in the oil the spores contain in small amounts. More information below
Packed in Miron Glass bottles with pipette dropper, containing 5 ml.
Prices below have been reduced by 15% for a limited time.
Currencies
In traditional Chinese medicine, Reishi (Ganoderma Lucidum) is known as the Queen of Mushrooms or even the Mushroom of Immortality. Reishi has been used for thousands of years for her immunity enhancing properties. The highest concentrations of polysaccharides and triterpenoids, the active compounds known to stimulate the immunesystem, are found in the spores of the mushroom and especially in the oil the spores contain in small amounts. Reishi Spore Oil is the pure oil extracted from these cell-wall broken spores and contains the highest concentrations of polysaccharides (25%) and triterpenoids (25%).
Reishi spore oil is easily absorbable and perfect for those looking for a highly concentrated, raw, unheated and alcohol free Reishi supplement.
This Reishi spore oil is extracted from organically grown Reishi spores produced from Duan Wood cultivated Reishi Mushrooms. This is one of the best nutritional sources for Reishi Mushroom. The Reishi Spore Oil is extracted at low temperatures and absolutely free from fillers or preservatives.
Other names: Ganoderma lucidum Spore oil
Pure 100% Ganoderma lucidum Spore oil
Depending on the medicinal useage its normal to take 1 to 3 drops per per day under the tongue. Upto 10 drops would be used for its immediate medicinal healing properties.
This natural product is offered for its ethnographic and historical value and is delivered with no expressed or implied fitness for a specific purpose. It is simply a raw botanical specimen, or a scientific sample. The information provided is purely meant for historical, scientific and educational purposes and should never be interpreted as a recommendation for a specific use. The use and application of our product is at the customer's decision, responsibility and risk.
Read our Terms & Conditions for more details.